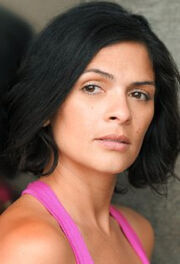 Alexandra Barreto plays the sexy lady Veronica Villanueva in "Frescorts". She resorted to Joe's services as her own looks inspire jealousy in women, and at most one thought in men.
Barreto previously appeared in the Rebecca Romijn TV series Pepper Dennis (which was created by Daisies writers Gretchen J. Berg and Aaron Harberts) in the recurring role of Blanca Martinez. Her credits also include CSI, CSI:NY, Summerland, Cold Case, the 2002 version of The Twilight Zone, and five episodes of American Family.
External Links
Ad blocker interference detected!
Wikia is a free-to-use site that makes money from advertising. We have a modified experience for viewers using ad blockers

Wikia is not accessible if you've made further modifications. Remove the custom ad blocker rule(s) and the page will load as expected.