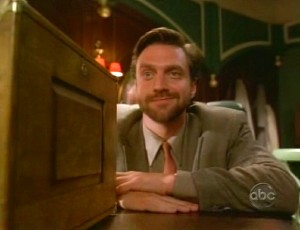 Alfredo Aldarisio is a traveling homeopathic antidepressant salesman, seen in "The Fun in Funeral" and "Bitter Sweets". He has a perpetual fear that the Earth's oxygen could be suddenly sucked away. Believing her to be afflicted with the same fear after a lovelorn comment she makes to him, Alfredo begins secretly admiring waitress Olive Snook, and showed his love by fixing the Pie Hole's espresso machine. Olive would eventually recognize this attraction, and maybe even reciprocate it, though she still longs to be touched by the Pie Maker. However, due to the traveling nature of his job, Alfredo had already left the Pie Hole, and presumably the area, before anything further could happen, and he faded from memory.
After his first meeting with Olive, Alfredo gave Chuck a free sample of his homeopathic wears which she would begin to begin to bake into pies (delivered to Chuck's Aunts unknowingly by Olive). Based on the quantity of mood enhancers possessed by Chuck towards the end of the first season, it is probable she made further purchases from Alfredo.
Behind the Scenes
It was originally announced that Paul Reubens (aka Pee Wee Herman) would be playing this role. However, for reasons unknown, the role was recast and given to Raúl Esparza. At first, Alfredo seemed a very viable love interest for Olive, but he disappeared essentially without trace or reference.