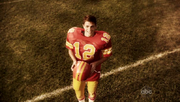 Ares Kostopolous was the quarterback of the football team at Buddy Amicus's high school. Buddy wanted to be Ares' best friend, so Buddy became the mascot of the team, the Spartans, just to get close to Ares. However, he accidentally disrupted a play during the championship game, and afterwards was tied to a goalpost and tortured by the football team. Ares joined in, which drove Buddy mad, so he killed Ares with his sword and disguised his remains as a mannequin wearing a football uniform, a 'trophy' which he kept in his office at 'My Best Friend, Inc.'. Buddy saw Ares as his inspiration and role model, both for the company and his own physical development, unaware on a conscious level at least, of his own actions.
Ares appeared in "Frescorts" in flashback.
Ad blocker interference detected!
Wikia is a free-to-use site that makes money from advertising. We have a modified experience for viewers using ad blockers

Wikia is not accessible if you've made further modifications. Remove the custom ad blocker rule(s) and the page will load as expected.