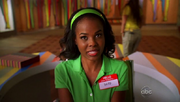 Barb was a receptionist at My Best Friend, Inc. She was given the nickname "Downy" by Joe because she prefers to do only the Down answers of crossword puzzles and never the Across answers. She was nearly stranggled by a hug matchine. She appeared in "Frescorts".
Ad blocker interference detected!
Wikia is a free-to-use site that makes money from advertising. We have a modified experience for viewers using ad blockers

Wikia is not accessible if you've made further modifications. Remove the custom ad blocker rule(s) and the page will load as expected.