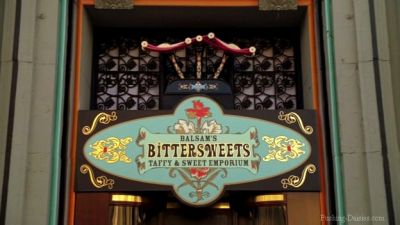 Balsam's Bittersweets Taffy and Sweets Emporium is a candy store that opens up shop across the street from the Pie Hole. The owners of this emporium are the Balsam siblings, Dilly and Billy. Both of them do not like competition and want to make sure that there is only one eatery in the neighborhood. They have even gone so far as to sabotage other businesses. In "Bitter Sweets", they paid off a health inspector to conduct a surprise inspection of the Pie Hole, and they damaged their competition's neon sign. However, the inspector wound up drowning Billy in a pool of taffy after attempting to blackmail the co-owner.
Despite this, Balsam's Bittersweets remained open at least a year later, as their employees were seen competing in the Comfort Food Cook-Off.
Ad blocker interference detected!
Wikia is a free-to-use site that makes money from advertising. We have a modified experience for viewers using ad blockers

Wikia is not accessible if you've made further modifications. Remove the custom ad blocker rule(s) and the page will load as expected.