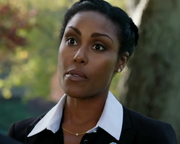 Christine Adams played Simone Hundin in "Bitches" and "Dim Sum, Lose Some".
Adams appeared in the Aaron Sorkin drama Studio 60 on the Sunset Strip. Her other credits include Batman Begins, Doctor Who, Home Again, NY-LON, and Stargate SG-1, as well as a major role on the 2011 short-lived series Terra Nova. She also had a recurring role on Agents of S.H.I.E.L.D. and another on Legends.
Adams hails from Britain, although she has worked primarily in North America for many years.
External links
Ad blocker interference detected!
Wikia is a free-to-use site that makes money from advertising. We have a modified experience for viewers using ad blockers

Wikia is not accessible if you've made further modifications. Remove the custom ad blocker rule(s) and the page will load as expected.