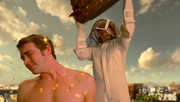 After her father's funeral, Chuck took up apiary. Nineteen years later, Ned set up multiple bee hives for Chuck on the roof of the Pie Hole. The next year Chuck's bees die in a pesticide accident, so Ned brings them back to life, by good fortune trading them for an infestation of water beetles.
Ad blocker interference detected!
Wikia is a free-to-use site that makes money from advertising. We have a modified experience for viewers using ad blockers

Wikia is not accessible if you've made further modifications. Remove the custom ad blocker rule(s) and the page will load as expected.