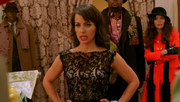 Coco Juniper was an impeccable fashionista with an apparent gift for window dressing. She was more upset about the state of her current project than the death of her window-dressing partner, Erin Embry. Opportunistic and demanding, she was rude and condescending to her apprentice, Denny Downs. She worked for Dicker's Department Store, until her untimely demise in an apparent escalator accident. She does not appear to be someone who will be sincerely mourned, despite her apparent fanclub.
Ad blocker interference detected!
Wikia is a free-to-use site that makes money from advertising. We have a modified experience for viewers using ad blockers

Wikia is not accessible if you've made further modifications. Remove the custom ad blocker rule(s) and the page will load as expected.