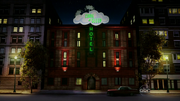 The Come and Sleep Hotel, located in Papen County, is where Dwight Dixon and his collection of guns reside. Lily Charles breaks into his hotel room, and steals back a pocket watch that he purloined from her daughter's apartment. Dixon returns one last time to his room, sees that the watch is missing, and takes off with a gun. Lily later breaks in again to confront the mysterious man, but gives up when he doesn't return, leaving a note behind. This note would subsequently be found during the investigation of Dwight's disappearance conducted by a team of Norwegian detectives. In the end, the Norwegians and the Pie Holers discover Dwight's body staged on his hotel bed to look like a natural death.
Trivia
Though the neon sign says 'Come and Sleep Hotel', the notepad is imprinted with the words 'Come and Sleep Motel'.
Appearances
The Come and Sleep Hotel was seen in "Robbing Hood", "Comfort Food" and "The Norwegians".
Ad blocker interference detected!
Wikia is a free-to-use site that makes money from advertising. We have a modified experience for viewers using ad blockers

Wikia is not accessible if you've made further modifications. Remove the custom ad blocker rule(s) and the page will load as expected.