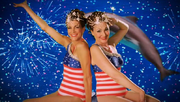 Coral Ramora and her sister Blanche belong to the sister-act synchronized swimming duo: The Aquadolls. They have always been the chief rivals of the Darling Mermaid Darlings.
Coral displays numerous parallels with Lily, from her tendency to be the spokeswoman for the duo to having had an affair with her sister's husband.
She appears in the series finale of Pushing Daisies entitled "Kerplunk". Her surname is presumably designed to evoke 'remora'.
Ad blocker interference detected!
Wikia is a free-to-use site that makes money from advertising. We have a modified experience for viewers using ad blockers

Wikia is not accessible if you've made further modifications. Remove the custom ad blocker rule(s) and the page will load as expected.