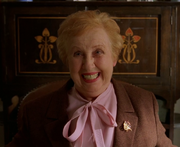 The curator of the Papen County Historical Society Museum is a narcoleptic. When Ned, Chuck and Emerson come upon her, they think she's dead. Ned even tries to touch her to bring her back to life. Emerson instead slaps her and she wakes up. When asked about The VonRoenn Windmill, she provides the group with information on N.A.R.M., to lead them to it, and alerts them that someone else had already come looking for it. She appears only in "Pigeon".
Ad blocker interference detected!
Wikia is a free-to-use site that makes money from advertising. We have a modified experience for viewers using ad blockers

Wikia is not accessible if you've made further modifications. Remove the custom ad blocker rule(s) and the page will load as expected.