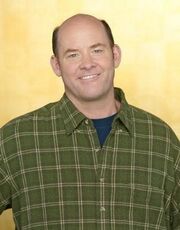 Dave Koechner portrayed the title character of "The Legend of Merle McQuoddy".
Koechner can be seen as one-half of the comedy/music duo "The Naked Trucker & T-Bones" (he's Gerald "T-Bones" Tibbons). He was also recently seen in the sports movie spoof The Comebacks. He is probably best known as Champ Kind of the Anchorman movies' news team.
External Links
Ad blocker interference detected!
Wikia is a free-to-use site that makes money from advertising. We have a modified experience for viewers using ad blockers

Wikia is not accessible if you've made further modifications. Remove the custom ad blocker rule(s) and the page will load as expected.