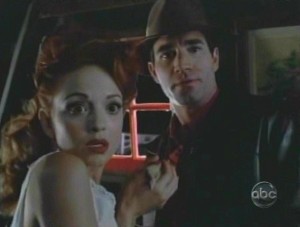 Elsa once owned the VonRoenn Windmill. She was in love with Jackson Lucas and often wrote messages to him in prison, which were carried by Pidge, a messenger pigeon. When she became ill, she made her daughter Elsita swear that she would never tell Jackson that she was dead. So Elsita would write the messages to Jackson in her mother's name, unaware that Lefty Lem was writing on Jackson's behalf. She appears in "Pigeon".
Behind the scenes
Just like brothers Lawrence and Louis Schatz were both played by the same person in "The Fun in Funeral", mother and daughter Elsa and Elsita are both played by Jayma Mays.
Ad blocker interference detected!
Wikia is a free-to-use site that makes money from advertising. We have a modified experience for viewers using ad blockers

Wikia is not accessible if you've made further modifications. Remove the custom ad blocker rule(s) and the page will load as expected.