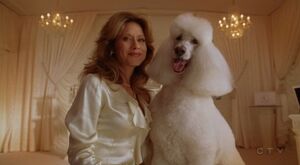 Hillary Hundin (Jessica Lundy) is the first wife of dog breeder Harold Hundin. She owns Prete-a-Pooch, a designer dogwear and accessories shop.
Being the first wife of Harold, Hillary wanted to be the one and only, but was outraged when Harold married three other wives. The only one and only that she had was Bubblegum, the Col-a-Dor-Russell-a-Poo that Harold owned. Harold was reluctant to clone Bubblegum with help from his friend Ramsfeld Snuppy so that everyone can own a Col-a-Dor-Russell-a-Poo, but Hillary refused.
One morning, Hillary made coffee for her husband and put almond creamer (the creamer that her sister-wife Hallie uses) and cyanide to kill her husband. She put it on Hallie's kitchen table to give to her husband and therefore framed Hallie for her husband's murder.
After the death of her husband and supposed death of Bubblegum, she is interrogated by Olive Snook and Digby, who are under the aliases of "Pimento" and "Pickle". When she hears from Olive that Snuppy could clone Bubblegum from her "ashes", she went to the office of Snuppy's Puppies and murdered Snuppy with the same cyanide-laced coffee she gave to her late husband. She was caught when Ned revived Snuppy (briefly) at her husband's funeral, causing her to betray herself and attempt to flee.[1]
Sources
Ad blocker interference detected!
Wikia is a free-to-use site that makes money from advertising. We have a modified experience for viewers using ad blockers

Wikia is not accessible if you've made further modifications. Remove the custom ad blocker rule(s) and the page will load as expected.