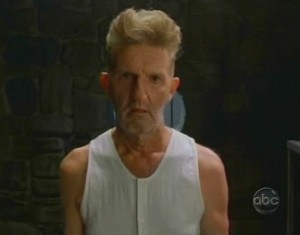 Jackson Lucas was the prison cellmate of Lefty Lem, imprisoned for stealing diamonds.
Jackson hid the diamonds in the floorboard of the VonRoenn Windmill, and almost fled in hopes of owning his own art gallery in Mexico. It was here that he met Elsa, the love of his life. He often wrote to Elsa and sent his messages via Pidge, the messenger pigeon. However, he tired of writing to her and let Lem do the writing. Little did Lem know that Elsa would later die and her daughter, Elsita would continue writing under Elsa's name. When Jackson likewise passed away, Lem continued the correspondence with Elsita, masquerading as Jackson.
Behind the Scenes
The elder version of Jackson Lucas was played by E.J. Callahan, while the younger version was portrayed by Dan Glenn.
Ad blocker interference detected!
Wikia is a free-to-use site that makes money from advertising. We have a modified experience for viewers using ad blockers

Wikia is not accessible if you've made further modifications. Remove the custom ad blocker rule(s) and the page will load as expected.