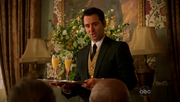 James-Andrew is a bellman, or as he would rather style himself, a porter. He was employed by Gustav Hoffer until the latter's death. In addition to making excellent mimosas, James-Andrew was also having an affair with his boss' wife, Elise. This began after she got his keys during a key party, and may well have irked Hoffer's lawyer more than the old man himself.
James-Andrew is a character in "Robbing Hood".
Ad blocker interference detected!
Wikia is a free-to-use site that makes money from advertising. We have a modified experience for viewers using ad blockers

Wikia is not accessible if you've made further modifications. Remove the custom ad blocker rule(s) and the page will load as expected.