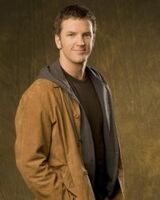 Josh Randall portrays Charles Charles in Season 2. Given the extent of bandaging, his relative youth is not seen or evident.
He played Mike on the NBC TV show Ed. He also played Nathan, an assumed traitor amongst the survivors, on the ABC TV show Lost, and Jake, one of the main character's boyfriends, on the NBC show Scrubs.
External Links
Ad blocker interference detected!
Wikia is a free-to-use site that makes money from advertising. We have a modified experience for viewers using ad blockers

Wikia is not accessible if you've made further modifications. Remove the custom ad blocker rule(s) and the page will load as expected.