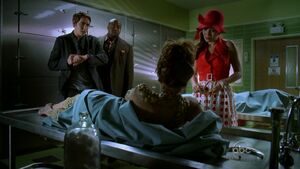 Kentucky Fitz was the leading sales rep at Betty's Bees and the potential new face of the company. She is found stung to death behind the wheel of her car, in the office parking lot. Ned wakes her up at the morgue, where she is covered in blisters. She reports that prior to being swarmed and killed by a hive of bees, she was engaged in corporate sabotage. Her last wish is that her husband, Dusty, not be alone.
Later investigation reveals that Kentucky was in league with Betty Bee to bring down the company from within, in order to ruin Woolsey Nicholls financially.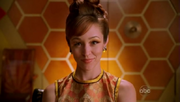 Ad blocker interference detected!
Wikia is a free-to-use site that makes money from advertising. We have a modified experience for viewers using ad blockers

Wikia is not accessible if you've made further modifications. Remove the custom ad blocker rule(s) and the page will load as expected.