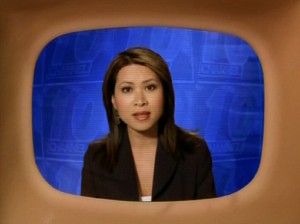 Leyna Nguyen plays a newscaster for WNKW channel 9 in "Pie-lette", "The Fun in Funeral", "Girth", "Bitter Sweets", and "The Legend of Merle McQuoddy".
Nguyen is an anchor/reporter for KCAL & KCBS-TV, who has been cast in similar roles on the TV series, Two and a Half Men, Las Vegas, Without a Trace and Boston Legal among others. She has also appeared in the Ice Cube action movie xXx: State of the Union, "Austin Powers in Goldmember" and the 2004 live-action update of Garfield with Jennifer Love Hewitt.
External links
Ad blocker interference detected!
Wikia is a free-to-use site that makes money from advertising. We have a modified experience for viewers using ad blockers

Wikia is not accessible if you've made further modifications. Remove the custom ad blocker rule(s) and the page will load as expected.