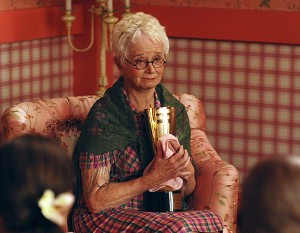 Mamma Jacobs (first name unrevealed) is the mother of former jockey and presumed "ghost", John Joseph Jacobs. When first she appears, she seems nice and forgiving towards Olive, who won the Jock-Off 2000. It turns out, however, that she was actually trampling those involved with the sabotaging of her son's girth, disguised as the ghost of her son. She appears in "Girth".
Ad blocker interference detected!
Wikia is a free-to-use site that makes money from advertising. We have a modified experience for viewers using ad blockers

Wikia is not accessible if you've made further modifications. Remove the custom ad blocker rule(s) and the page will load as expected.