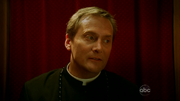 Michael Hitchcock portrays Father Ed in "Bad Habits".
Along with Fred Willard, Hitchcock is a regular of a 'rep company' that appears in all of Christopher Guest's mockumentaries: He was councilman Steve Stark in Waiting for Guffman, Hamilton Swan in Best in Show, Lawrence E. Turpin in A Mighty Wind, and a "Hate It Film Critic" in For Your Consideration. Outside of acting, Hitchcock is a writer for sketch comedy show MadTV.
It should be noted that he is not in any way related to Alfred Hitchcock, the famous film director whose work is an influence on Pushing Daisies. For both Glee and Crazy Ex-Girlfriend Michael has worked in front of the camera and as a producer.
External Links
Ad blocker interference detected!
Wikia is a free-to-use site that makes money from advertising. We have a modified experience for viewers using ad blockers

Wikia is not accessible if you've made further modifications. Remove the custom ad blocker rule(s) and the page will load as expected.