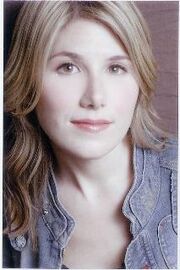 Nicole Greenwood plays Ms. Moss in "Circus, Circus".
Greenwood's previous credits include Monk, Limbo, Century City, and Cry Funny Happy, the latter of which she was also casting director. In 2014 she became the co-host of Indi News. She is sometimes mistaken for Jewel Staite by viewers.
External Links
Ad blocker interference detected!
Wikia is a free-to-use site that makes money from advertising. We have a modified experience for viewers using ad blockers

Wikia is not accessible if you've made further modifications. Remove the custom ad blocker rule(s) and the page will load as expected.