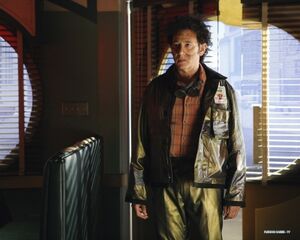 Oscar Vibenius is a former smeller/olfactory expert who now works for the Department of Water and Power. Oscar is a rival of fellow olfactory expert Napoleon LeNez. Unlike LeNez, Oscar prefers to explore the more foul and "natural" smells in the earth, believing that only by knowing and understanding them can one appreciate the nicer smells that LeNez favors.
It was because of this that LeNez sought to frame Oscar for the attempted murder of LeNez himself. However, Vibenius actually helped to save his rival during LeNez's second try, by shutting off a natural gas hose that was pumping gas into LeNez's car so it would explode. Oscar's saving act was interrupted by Emerson Cod, forcing Oscar to defend his actions as trying to help. Later, when Emerson and Ned are trapped in the third staged murder attempt of LeNez's, Oscar again comes to the rescue by reworking the controls of Napoleon's air purifying system to spew foul air from outside into LeNez's sanctuary, and vented the toxic gases poisoning the investigators out of harm's way.
When Oscar enters the Pie Hole, he notices something a little peculiar about the smell of Chuck. He steals her mother's sweater for further investigation. Weeks later, still unable to figure out the nature of Chuck's strange smell, he steals of tuft of fur from Digby, who, he says, has the same smell. He confronts Chuck on the roof by her beehives about the mysterious smell smell. Chuck, who was struggling with all the secrets in her life, gave Oscar a sample of her hair. Instead of analyzing it, however, he returned later in hopes of her sharing her secret openly with him instead of him having to discover it through her hair. Having changed her mind, however, she reclaimed her hair from Oscar.
Creator Bryan Fuller has said that Oscar Vibenius would have continued to play a role in the plot if the series hadn't been canceled, and that he would make an appearance in the upcoming comic book. He is seen briefly, down below the Pie Hole, in the camera pan which accompanies the narrator's wrap-up in "Kerplunk".