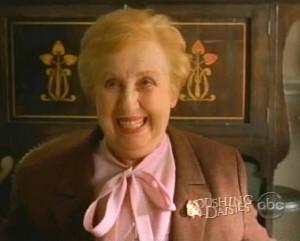 Pamela Kosh played the narcoleptic curator in "Pigeon".
Kosh is best known for her roles as Flora in The King of Queens, Miss Simpson in Saved by the Bell and Martha in Dr. Quinn, Medicine Woman.
She has also made many minor and supporting appearances in television series such as Northern Exposure, Gilmore Girls, Friends, Murder, She Wrote, The Golden Girls, USA High, Star Trek: The Next Generation, Frasier, Charmed, Matlock, Alias, Monk, ER and So Little Time. She has appeared in the films Double Take and Sweet Temptation.
External links
Ad blocker interference detected!
Wikia is a free-to-use site that makes money from advertising. We have a modified experience for viewers using ad blockers

Wikia is not accessible if you've made further modifications. Remove the custom ad blocker rule(s) and the page will load as expected.