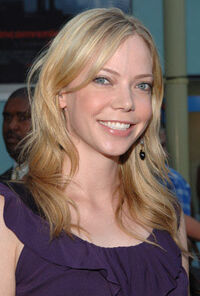 Erika Joan "Riki" Lindhome plays Jeanine in "Dummy".
Lindhome received her acting break when she was cast in Tim Robbins' New York City play Embedded. She previously appeared as Juliet in Gilmore Girls, and has also appeared in Buffy the Vampire Slayer and Heroes. In 2006, Lindholme wrote, directed, produced and starred in Life Is Short, a romantic comedy with Seth MacFarlane and Alexis Bledel.
Outside of acting, Lindhome plays the guitar and sings with her ukulele-playing friend/actor Kate Micucci (Scrubs) as the musical comedy duo, Garfunkel and Oates, whose performances have been made into a series. She also provides voices for the TV incarnation of Monsters Vs. Aliens.