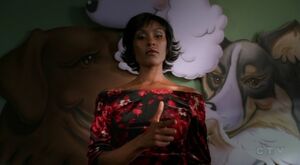 Simone Hundin is the third wife of famed dog breeder Harold Hundin. Interestingly, she is the only Hundin with a first name not beginning with 'H.' She owns a K-18 dog obedience training school where she trains Jack Russell terriers. After the death of her husband, she is interrogated by and gets romantically interested in Emerson Cod. (Or is it vice versa?) Also after the death of her husband, she claimed possesion of the supposedly dead Bubblegum and turned over her "ashes" to Ramsfeld Snuppy. The ashes were actually that of a rat that Bubblegum caught. She appears in "Bitches" and returns with her clicker and Bubblegum in "Dim Sum, Lose Some" as well as "Water and Power".
Ad blocker interference detected!
Wikia is a free-to-use site that makes money from advertising. We have a modified experience for viewers using ad blockers

Wikia is not accessible if you've made further modifications. Remove the custom ad blocker rule(s) and the page will load as expected.