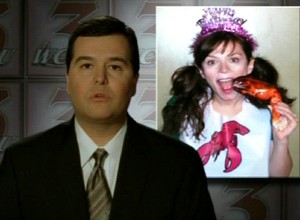 Ted Garcia plays a news anchor in "Pie-lette", describing the fate of "Lonely Tourist Charlotte Charles", a.k.a. Chuck.
Since 1998, Garcia has been a news anchor for KTLA news in Los Angeles, CA. As such, he has appeared in numerous films and TV shows as a reporter, including Days of Our Lives, Six Feet Under, Smallville, The West Wing, Boston Legal, and the films First Daughter and Bruce Almighty, amongst others.
External links
Ad blocker interference detected!
Wikia is a free-to-use site that makes money from advertising. We have a modified experience for viewers using ad blockers

Wikia is not accessible if you've made further modifications. Remove the custom ad blocker rule(s) and the page will load as expected.