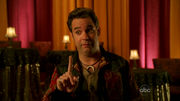 The Geek is a performer at Conjurer's Castle, who opened for The Great Herrmann, whom he viewed as a father figure. His act involved him swallowing objects and regurgitating them on stage.
He killed The Great Herrmann in "Oh Oh Oh...It's Magic", the sad outcome of years of frustration and being passed over.
Ad blocker interference detected!
Wikia is a free-to-use site that makes money from advertising. We have a modified experience for viewers using ad blockers

Wikia is not accessible if you've made further modifications. Remove the custom ad blocker rule(s) and the page will load as expected.