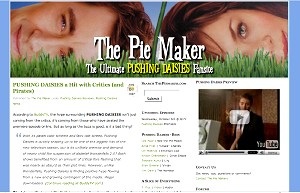 The Pie Maker was a Pushing Daisies fansite (the ultimate, according to its hype) launched in July 2007. It is now defunct, the website being for sale.
The blog featured news about the series, which included links to YouTube clips of interviews with the cast.
Link
Ad blocker interference detected!
Wikia is a free-to-use site that makes money from advertising. We have a modified experience for viewers using ad blockers

Wikia is not accessible if you've made further modifications. Remove the custom ad blocker rule(s) and the page will load as expected.