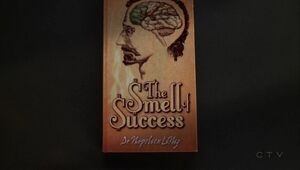 The Smell of Success is the title of a scratch-and-sniff book by Napoleon LeNez. It educates readers on how to improve their lives through smells. Publication of the book has been delayed multiple times because of attempts on the life of LeNez, one of which resulted in the death of his assistant Anita Gray. It is the proximate cause of Emerson Cod and Ned entering a 'pop-up' book emporium, and thus leads in many ways to the creation of Lil' Gum Shoe.
The book appears to be a rather pompous, dry and self-aggrandizing treatise, hence its author's need to drum up publicity by whatever means possible.
Ad blocker interference detected!
Wikia is a free-to-use site that makes money from advertising. We have a modified experience for viewers using ad blockers

Wikia is not accessible if you've made further modifications. Remove the custom ad blocker rule(s) and the page will load as expected.