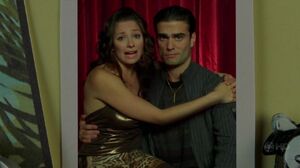 Tina Arongino is the former lover of Tony DiNapoli. When Tony died, she was framed for his death by Burly Bruce Carter, who was actually the killer. Tina is practically a caricature of the hot-blooded, jealous, crazy-in-love Italian woman. She is arrested and detained for the murder, but released thanks to the efforts of the Pie Holers. She appears in "Bitter Sweets".
Ad blocker interference detected!
Wikia is a free-to-use site that makes money from advertising. We have a modified experience for viewers using ad blockers

Wikia is not accessible if you've made further modifications. Remove the custom ad blocker rule(s) and the page will load as expected.