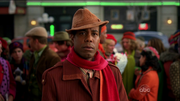 Wendell Featherstone is a huge fan of Coco and Erin's windows. He presides over a memorial for Erin recalling her astonishing use of color and detail. Presumably, when the truth comes out, he may well have found a new target for his idolatry in Denny Downs.
He appears in "Window Dressed to Kill".
Ad blocker interference detected!
Wikia is a free-to-use site that makes money from advertising. We have a modified experience for viewers using ad blockers

Wikia is not accessible if you've made further modifications. Remove the custom ad blocker rule(s) and the page will load as expected.